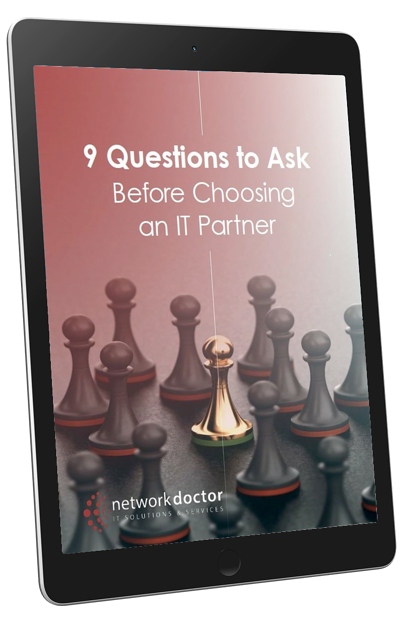 9 Questions to Ask
Before Choosing
an IT Partner
Nearly every facet of your business relies on technology that can't fail. Your relationship with your MSP is huge. The truth is, you're not just purchasing a service, you're entering a partnership – a partnership as crucial to your organization's overall success as any that you will enter. How, then, to vet the candidates for your valuable IT dollars?
It all boils down to an open, honest discussion with your potential provider. Think through your questions before the meeting. Find out what differentiates them and how valuable their managed services offerings really are.

Why Network Doctor?
You want to run a profitable business. You need to operate with efficiency and vision. The problem is your people and managed IT service provider aren't working cohesively towards that goal, which is frustrating. Network Doctor starts by listening to your vision, we analyze where you can improve and create a detailed plan that drives your organization to those aspirations. That's our proactive approach. If you're an SMB in New Jersey or New York area, click the button below to schedule a 15-minute call to discuss our IT philosophy and how it aligns with your business goals.
© 2022 NETWORK DOCTOR | ALL RIGHTS RESERVED