Microsoft Teams is rapidly changing the way we conduct teamwork in the workplace, leading to greater flexibility, engagement and productivity for team workers. Our Microsoft Teams services enable organizations to harness the power of Microsoft 365, with Teams providing a centralized platform for employees – integrating chat, meetings, calling, files, apps and workflows. Our Microsoft Teams onboarding support ensures that Teams will be correctly configured for your specific organizational requirements.
If you need any support adopting Microsoft Teams, feel free to contact us. You can also check this guide to start using Microsoft Teams.
What does Teams do?
Within one window, users can call upon a variety of key Office 365 apps and tools to help them work more effectively, such as:
Calendars and meetings (Outlook)
Create, share, edit and find content (SharePoint, OneDrive and OneNote)
Call and meet team members (Skype)
Chat and instant messaging (Skype)
Key benefits of Teams
One centralized hub
Office 365 integration
Customize Teams through APIs and bot frameworks
Enterprise security & compliance
Azure

 

Active Directory integration
No extra cost to Office 365 users
USING TEAMS
Before getting started it's important to understand how Teams fits into the larger Office 365 picture, as creating Teams has some wider implications. Every Team created will automatically create a matching Plan, SharePoint Team Site, Office 365 Group and shared OneNote. While this brings a number of great benefits, such as shared documents and centralized team information, it can cause some governance and admin headaches. Luckily, the admin side of Teams allows this to be managed as we'll cover below.
OVERVIEW
Once your organization has access to Teams, you can: download the desktop application, access Teams through your browser, or download the mobile app.
TEAMS AND CHANNELS
To start your teamwork collaboration, you need a team. Setting up Teams is easy and done in a few clicks, requiring a Team name and a description; this then allows team members to be added. As mentioned above, a new Team will create a matching Office 365 Group, OneNote, SharePoint site and Plan—so this does need to be done with some caution.
Each Team has subsections, which are called Channels, and a General Channel will automatically be created. You can have multiple Channels within a Team; for example, you could have a 'Marketing' Team and then Channels such as 'Social Media', 'Product Launch', 'Blogs' etc. Or a Company could be a Team and Channels can relate to departments – you can choose whatever suits your organization's way of working. Whenever there is a new notification or activity, the Channel will become bold.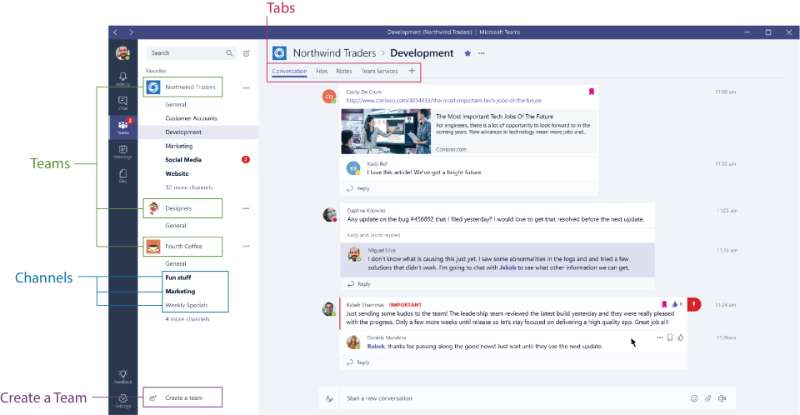 CHANNEL TABS
Each Channel all have their own tabs along the top. Conversation (group chat), Files (shared documents), and Notes (shared OneNote) are automatically created and you can then add your own tabs.
CONVERSATION
Conversations are one of the key features of Teams, allowing each Team to have a centralized discussion that is saved and easily searchable. Conversations are the central component where all teamwork is recorded—from file sharing to video calls.
The use of @mentions allows you to tag participants or even whole teams to notify others. Users that look at Conversations will easily see where they have been mentioned through the red @ symbol to highlight areas of importance to them. On top of this, your desktop app will notify you through an alert. As well as tagging, users can 'like' content and share emoticons or GIFs.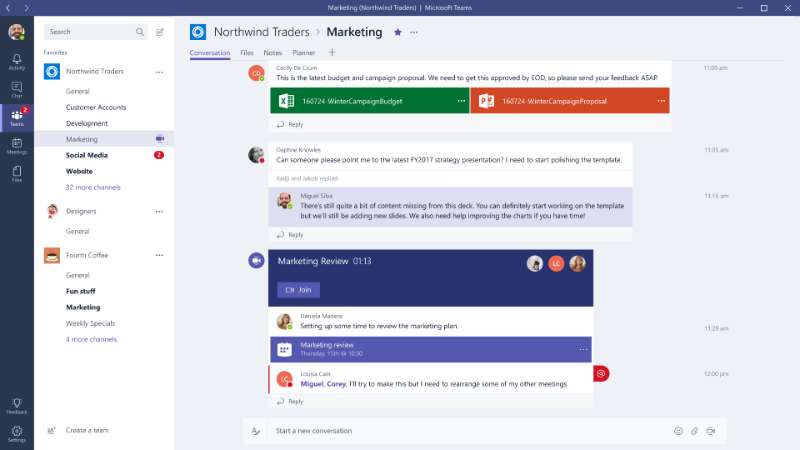 FILES
In your Teams window, you can perform a variety of tasks directly within that window or browser, so that you avoid flicking between different applications. These tasks include the ability to delete, download, move files, open, copy, edit, or get a link to share with others – giving you all the key features you would get in the native apps.
You can also start a Group chat alongside the file, to allow team discussions while all working on the files – and this conversation will appear in your Conversation thread.

NOTES
Notes takes you to the Team shared OneNote. Within Teams, you can view and edit your OneNote (directly within the Teams window) or you can click to edit in the OneNote app.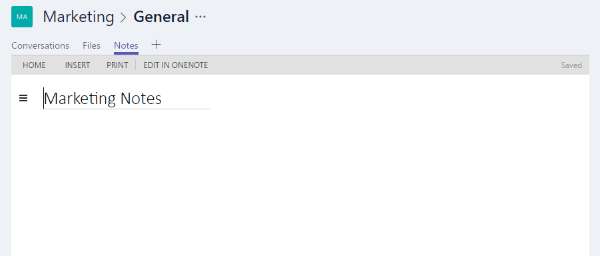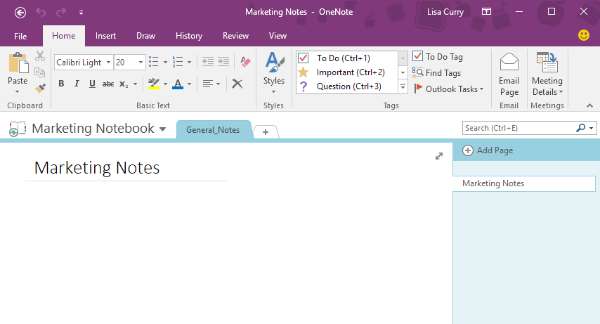 APP INTEGRATIONS
As mentioned, as well as these three automatic tabs, you can also add your own, including all of Microsoft's signature apps such as Word, Excel, PowerPoint, Planner, and more, so your business has all the information it needs at its fingertips and you retain, manage, and generate more business, faster.
But one of the most powerful, and most compelling features of Teams is its extensive array of application integrations.
All of these app integrations allow you to "live" in Teams as your teamwork hub and to 'compile' information in one main 'dashboard' so you can work at peak performance. Check 
You might also like: 10 Best Microsoft Teams Integration You Need To Try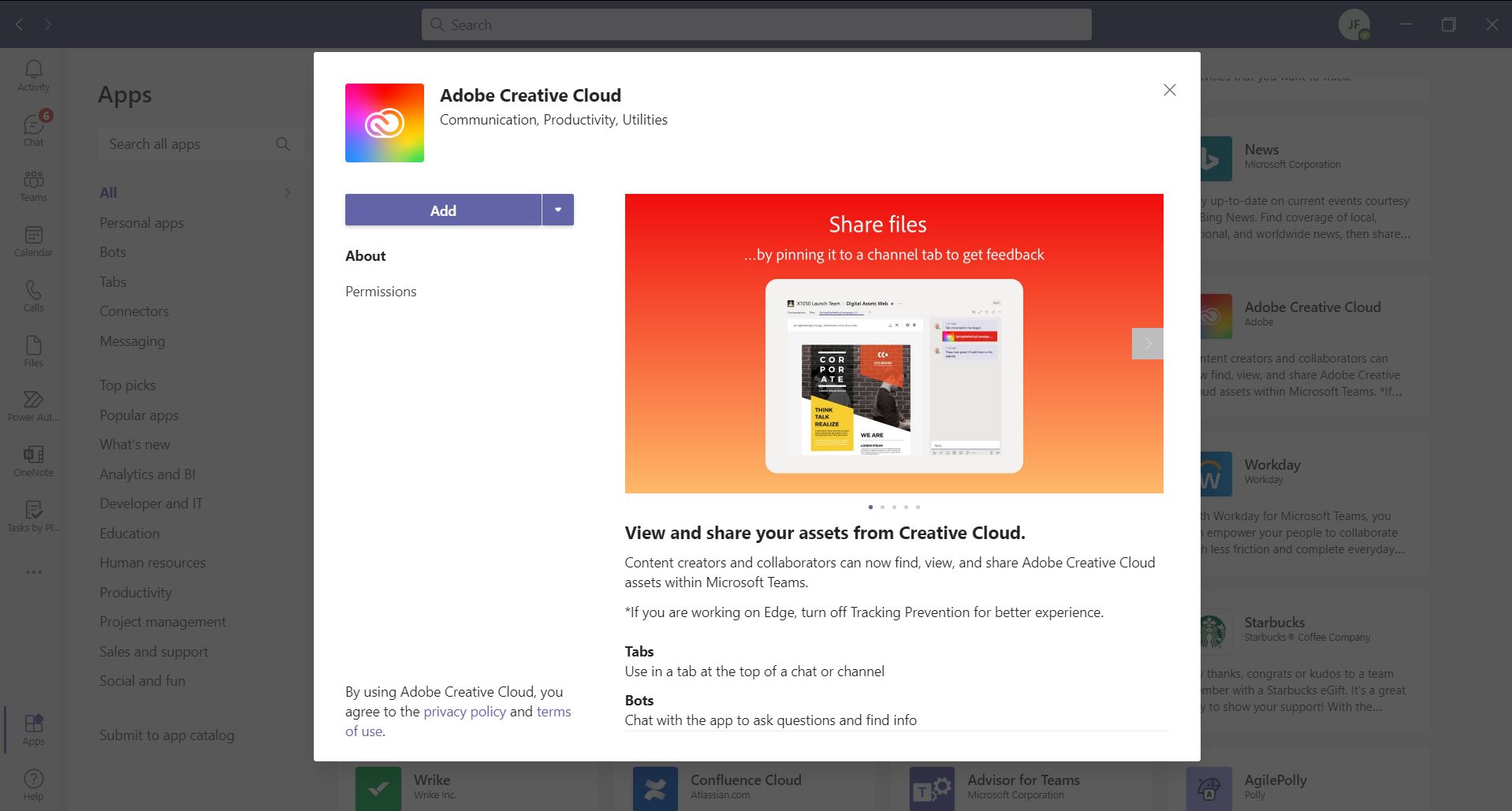 MENU
Along the left-hand side, you can navigate to different areas within Teams, such as Chats, Meetings, Files, and Activity. Most of these are fairly self-explanatory:
Activities: Shows you the last activities of the Teams that you are part of.
Chat: This holds your Skype for Business conversations, providing a complete chat history. However, for a chat within a Team, you should use the Teams menu and hold the group chat in 'Conversation'.
Teams: An overview of all your Teams that you are part of and allows you to drill-down into each Channel within the Teams. This is also where you can create Teams.
Meetings: The Meetings tab pulls your meetings in from Outlook and also allows you to schedule meetings within the Meetings tab that are sent to a Team. If you want to schedule other meetings with external users or individuals, you will still need to use Outlook, as the Teams Meeting tab is only to schedule a meeting with a Team. (Remember the aim is team collaboration, not calendar management).
Files: Within Files, you can quickly find and view files across OneNote, OneDrive, and within Teams (stored in their own SharePoint sites). There's also a very helpful 'Recent' tab so you can quickly access the latest documents you were working on, as well as a shortcut to your Downloads.
ADMIN
Microsoft Teams is a great product already as it allows great flexibility and gives you many possibilities. However, as mentioned earlier, getting started with Teams can also bring some knock-on effects, which can cause admin headaches. Luckily, within the Office 365 Admin, you can control Teams settings within the Groups control panel. Within Admin settings, you can control who can create teams, what features are or are not allowed, such as video meetings, screen sharing, or animated images, or if extensions can be used. This gives the control required to allow governance in line with your organization's policy and ensures you can keep control over the app. Find out more 
here.
FAQS
Is Teams available now? Yes – Teams is generally available.
Which Office 365 Plans include Teams? Teams is available to Business Essentials, Business Premium, F1, E1, E3, E4 (retired) and E5 customers. It's also available for Education and Non-profit plans but not yet Government.
What is on the Teams roadmap? You can view the full Teams roadmap here.
What about Skype for Business? Teams will be replacing Skype for Business! Find out more here.
Does Teams work with those outside your organization? Yes – this feature was added and can be turned on or off. Guest access is included with all Office 365 Business Premium, Office 365 Enterprise, and Office 365 Education subscriptions. No additional Office 365 license is necessary. Guest access is a tenant-level setting in Microsoft Teams and is turned off by default. Find out more here.
CONCLUSION
Microsoft Teams is already a robust offering and is benefiting from lots of new features and integrations. Even better, since Microsoft's new direction under Satya Nadella, feedback and reviews on products have been well received with Microsoft actively acting upon public feedback. Microsoft Teams has a simple feedback program and you can go and view most popular suggestions, as well as see which ones are planned based on the number of up-votes. These requests and other features can then be seen on the public Office 365 Roadmap. This really shows a commitment to making a product aimed at user needs, so we have a great feeling about Microsoft Teams. What's more, seeing as Teams will be replacing Skype for Business we are sure that it will become well used!
Media coverage and reception has also been very positive with many Slack comparisons. Within these comparisons, Microsoft Teams is often faring very well in terms of features, usability and offering—but what makes it even more appealing is the fact that is it included with Office 365. For Office 365 users, this means that those who are already using other paid teamwork software can remove the license expense, and those that aren't can gain access to a useful new application that competitors might be using – at no extra cost.
NEXT STEPS
If you are using Office 365, then we recommend trying Teams and providing your feedback to help shape the product. You can download a Quick Start PDF guide to get users started here.
If you are not using Office 365, then you can sign up for an Office 365 E3 trial (which includes Teams).
You can also find out how we can help with our Microsoft Teams Services or Contact Us and we can give an Office 365 demo or answer any questions.